Mundane adventures in the arts and crafts of fiber, the joys of birds, the garden of kitschy delights and of course.... tea.
Wednesday, May 09, 2007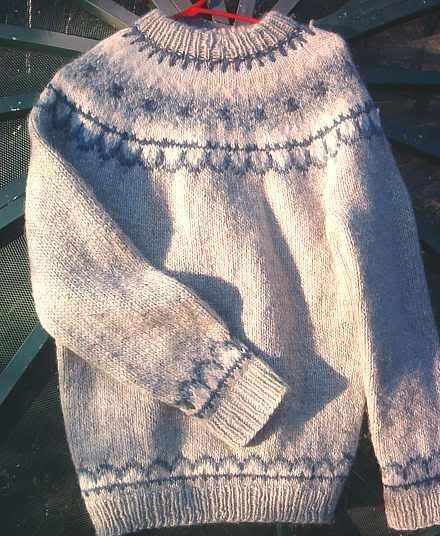 We went to the thrift store yesterday and amazingly I just wasn't finding much of anything that sang to me. I decided I'd look for some wool sweaters for reclaiming and fulling/felting. They had already taken most of everything wintery off the racks but I did manage to find just one. It's a real beauty and I haven't been able to make myself take a test cut yet! LOL!!! I've toyed with the idea of trying to unravel it for the yarn but I really don't know where to start. I'm pretty sure it was hand knit as you can see small mistakes in it if you examine it closely. It seems to have been knit in one piece also... there aren't any seams aside from a few inches in each armpit and the collar ribbing seems to be done seperately and applied with what looks like hand stitching. I even toyed with the idea of just keeping it as it is, but it's a very coarse wool and very pricky even for me and I don't usually mind most wool prickle. It's pretty out of shape too and would need some intensive blocking. I was looking for a sweater with a specific project in mind. I wanted to make a cat nest like the one I recently crocheted and felted. This sweater has such a pretty design though that I'm thinking maybe I need to make something different.... but what?! The yoke design would also interfere with the amount of fabric I want for the base of the cat nest and I hate to just cut into it and waste that part. What would YOU make from it?
Posted by

It's just Raven
at 5:01 PM
4 comments:
Links to this post


Okay so I'm going to try to give it some real effort this time... LOL!!! It's Spring, it's time for new beginnings and fresh starts. Soooo... that means it's time to try Blogger again. I've changed the title, will probably change the template if I can find one I want and I'll be changing my focus here to the mundane pleasures of my kitsch and garden art, a post now and then about my critter kids but mostly I'll try to focus on my felting and other fiber obsessions.
Soooo... here's to waking up with a smile!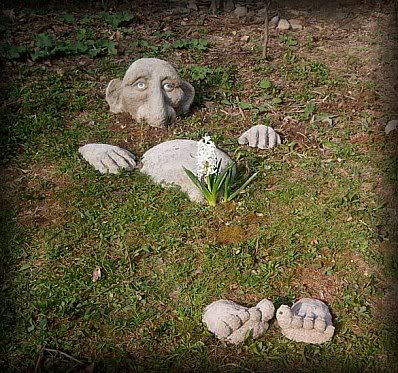 Posted by

It's just Raven
at 11:33 AM
No comments:
Links to this post


Sunday, May 06, 2007
I figured maybe I should make a post now and then, just to make sure my account stays active. I have several friends on Blogger whose blogs I like to watch and be able to comment on so I gotta keep my account here. Yup, I hang out here at other friend's "houses" but there's a lot I don't like here, especially compared to LJ. Maybe I just haven't been here enough to figure it all out though! Mostly I don't like the way you can't comment and reply to each individual reply to an entry... at least as far as I've been able to figure out. Sure it's nice to get comments to an entry but sometimes it's even nicer to be able to reply to the comment and persue a dialog, addressing a particular post, without just adding a new reply to the whole darn thing. Maybe I'm just missing something... The other thing I don't like is purely "fluff"... I have fun on LJ being able to totally customize the layout with great backgrounds and stuff so easily. I just can't seem to figure out as many options for custom "decorating" here. Okay so this is just a bit of babble.... we will return to your regular programming... LOL!!!
Posted by

It's just Raven
at 8:40 PM
No comments:
Links to this post